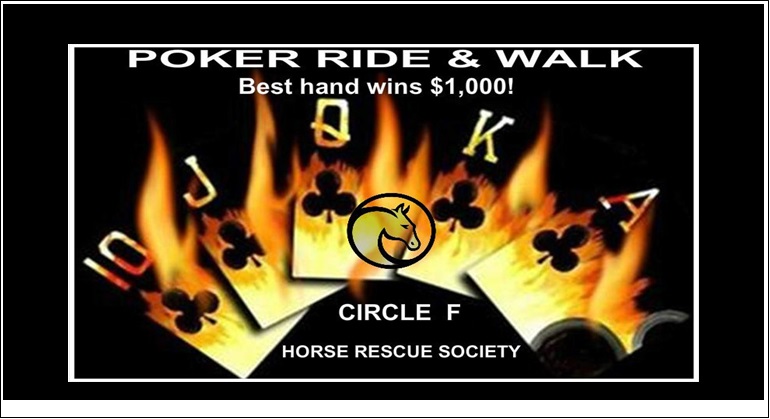 Saturday, September 27th, 2014
Campbell Valley Regional Park, Langley
Play one or many hands to increase your odds of winning! Participants will have 2 hours to pick up their poker hands at each of the 5 stations located throughout the gorgeous Campbell Valley Trails. There is a full course for horseback riders and a short course for walkers.
New this year – Pledging – Collect pledges & win a prize. Details can be seen on Pledge Form at www.circlef.ca. Please  download  &  bring  this  form with all monies you have collected (includes cash, cheques & charge forms*) with you to the Poker Ride. *Charge Forms also available for downloading.
 Horse Rental – Horses are available through Glen Valley Stables.  To rent a horse  please  contact  www.glenvalleystables.com  directly.  Additional horses may be available – watch website & social media for updates.
Entry Fee*: $25.00 per hand
*One entry fee will be waived for horse owners who ride horses they adopted through Circle F!
 On-site Registration:             10:00 am On-line Registration:  https://www.eventbrite.ca/e/5th-  annual-poker-ride-walk-tickets-  12667662319
Ride/Walk:                                11:00 am
Winner Announced:              1:30 pm
Twitter:       @CircleFHorses
Facebook:  www.facebook.com/groups/circlef
A BIG thank you to all of our generous sponsors & radio hosts!

GOLD              Bev Kendall, Brenson Pacific Technologies, Karen Madsen/Randy Sure, Swift Thoroughbreds, Walter Paetkau
SILVER           Karen McGill, Nico van der Peet & Susan Ferrante, Vancity, Wings Massage [Margaret Clark]
BRONZE         Anita Arnott, Ann Eaton, Brian Teed, Glen Valley Stables, Jackie & Don, Natural Hoof Care [Diane Kubas], Winchester  Family Business [Alice Jester]